Affordable Acupuncture for You and Your Family
Established 2007

Initial Consultation & Treatment (1 hour): £48
Subsequent Treatments (45 mins - 1 hour): £30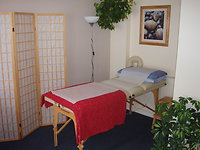 We provide high quality acupuncture treatment at affordable rates. We are able to do this because we run what is called a multibed clinic. The first appointment is longer, but for all subsequent treatments we see patients at 20 minute intervals. In that 20 minutes we have a chat and put the needles in, then leave you to relax with your needles in while we see the next patient. This allows us to pass the cost savings on to you the patient. We let the needles do the work. While you are relaxing with your needles, each patient is given a bell with which you can call your acupuncturist at any time.
Opening Times
Monday: 10.00am to 6.00pm
Tuesdays: 9.00am to 6.00pm
Wednesday: 10.00am to 6.00pm
Thursdays: 9.00am to 6.00pm
Payment: please note that we only accept cheque, bank transfer or cash.

Our aim is to get you better as quickly as possible. By making your treatments affordable, you can come in as often as you need to get well and to stay well. Acupuncture is an incredibly effective therapy and we want it to be accessible to as many people as possible.
Affordable Acupuncturists for Taunton, Bridgwater and Somerset
Our Acupuncture Centre is in Bath Place in the middle of Taunton the county town of Somerset, within easy reach of Wellington, Wiveliscombe and Bridgwater.
Thousands of people in the UK and around the world have found treatment beneficial for a variety of symptoms. Some come for acupuncture to relieve specific pains , e.g. osteoarthritis of the knee; some use acupuncture because they feel generally unwell but have no obvious diagnosis. Others choose to have treatment to help maintain good health; as a preventative measure, and to improve their general sense of wellbeing. Acupuncture is considered suitable for all ages, including babies and children, and can be used effectively alongside conventional medicine.
Please call to speak to an acupuncturist to find out if your condition is suitable for treatment
About Us
Our extensive and ongoing training includes a wide range of specialist acupuncture courses, including: pain relief, women's health and fertility, IVF, children's health, skin diseases, asthma, sport's injuries, mental health, pregnancy, arthritis, migraine, ME, IBS, anxiety, depression, insomnia, eye diseases including wet and dry macular degeneration and glaucoma.
"Our commitment is to you and your health. We want you to have the opportunity to experience the full benefits of Acupuncture."

Want to Find an Affordable Acupuncturist in Your Area?
Visit
Association of Community and Multibed Acupuncture Centres
"I'm so glad I found the Taunton Community Acupuncture Centre. I find acupuncture so effective and now it's affordable for me too." - Margaret I, Bridgwater, Somerset
TAUNTON COMMUNITY ACUPUNCTURE CENTRE
Acupuncturist Bridgwater/Taunton/Wellington/Wiveliscombe/Somerset
Affordable acupuncture Somerset